Gudelines on how to source sustainably
The sustainable sourcing guidlines have been developed as part of the Indonesian component of our SCP project, and they are the result of consultations and workshops with retailes and other stakeholders (see for example our article on the first sustainable retailer roundtable in Indonesia, which we held in November 2018). The guidelines are meant to help and guide downstream companies including retailers, hotels and restaurants on their path to sustainability, by showing ways to systematically switch business operations to sustainble sourcing.
Covering five product ranges (palm oil, wood & paper, seafood, energy, plastics), the guidelines are divided into three parts:
Giving companies a roadmap at hand showing the steps towards having sustainability principles embedded into the business strategy. This path can only be completed with top management commitment. An action plan for sustainable sourcing is to be developed and implemented.
Information are given on how to actually start sourcing sustainable commodities. It all starts by asking suppliers where and how the commodities were produced. The goal will eventually be to receive only certified supplies.
The last part consistst of a practical check-list for companies to identify where on the path of sustainable sourcing and sustainability in general they are.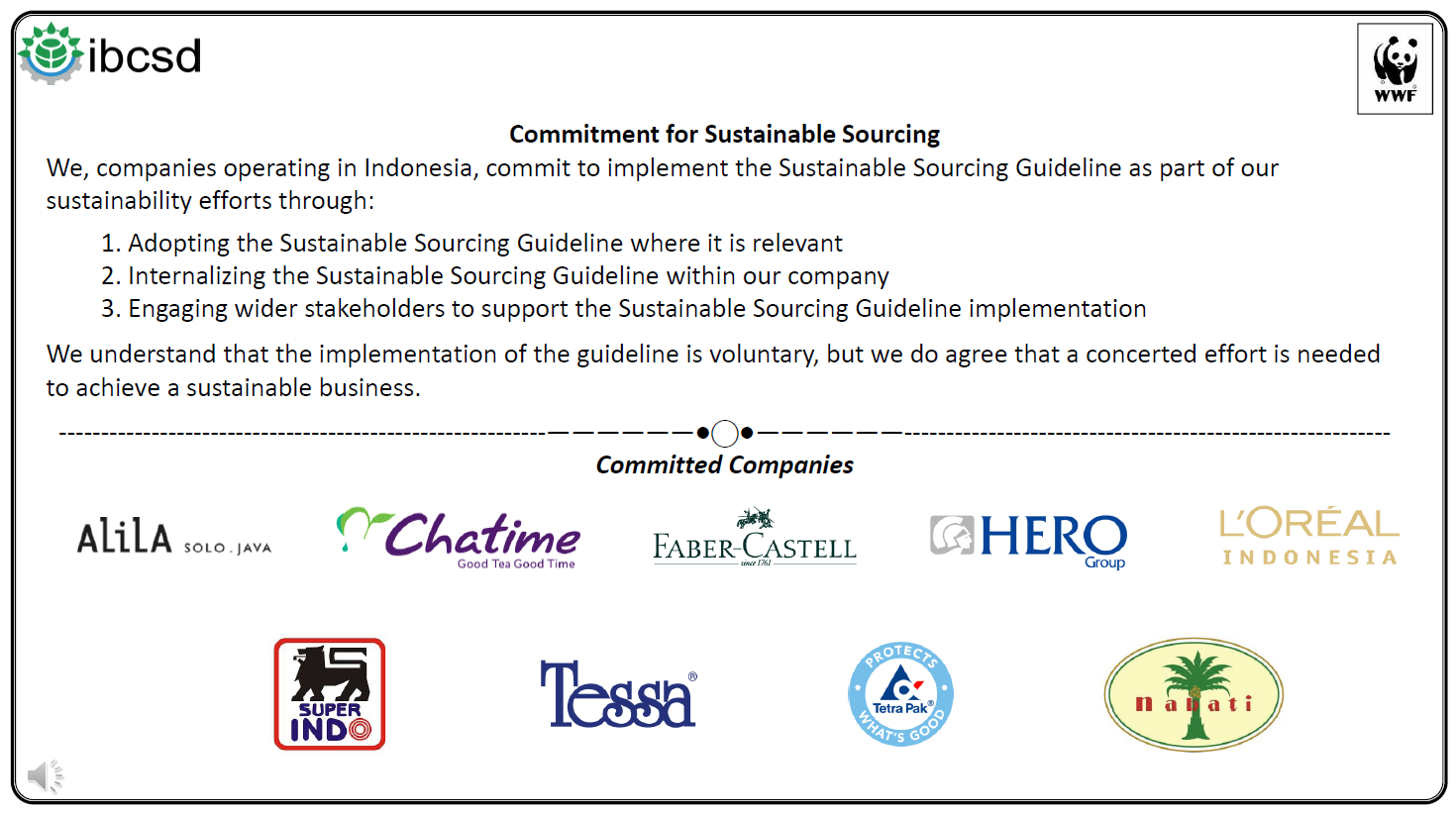 Nine champions committed to sustainable sourcing
Nine companies have stated their solid commitment to practicing sustainable sourcing: PT Hero Supermarket Tbk, PT Wahana Citra Nabati, PT L'Oreal Indonesia, PT Tetra Pak Indonesia, PT Graha Bumi Hijau (Tessa), PT Narendra Lentera Adisakti (Alila Hotel Solo), PT Faber-Castell International Indonesia, PT Foods and Beverages Indonesia (Chatime), and PT Lion Super Indo.
These companies are at different stages of implementing sustainability, some having started the efforts years ago while others are rather at the beginning of the journey. WWF-Indonesia encourages these companies to implement the guidelines depending on where in the process they are. As an example, there is one company that is already certified sustainable, so the aim is now to also display this sustainability in the form of a logo on products, thereby allowing consumers to differentiate between sustainable and conventional items. On the other hand, there is also a company that has only just started to understand the importance of putting sustainable practices in place in its business, and it will take some time to go through the entire process laid out in the guidelines.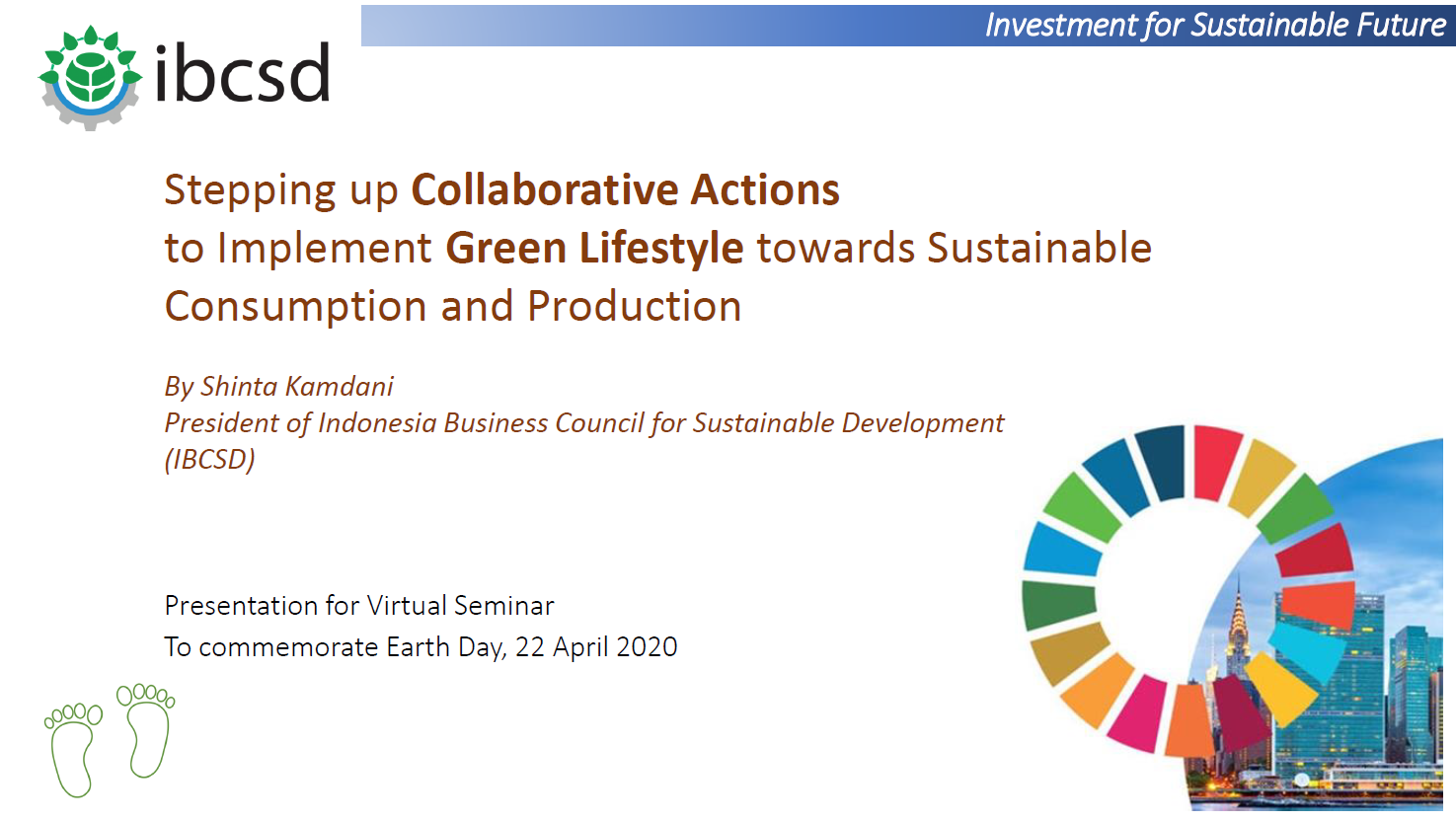 Sustainable sourcing leading to sustainable consumption
WWF-Indonesia is closely coordinating with IBCSD, in the hope to identify first a distinguished group of companies agreeing to act as pioneers in implementing the guidelines and showing significant progress on sustainability. This initiative will especially be targetted at IBCSD's "Green Lifestyle" platform. During the course of the process, other companies will be encouraged to join the initiative and in collective action work towards a common goal: offering Indonesian consumers more sustainable options and thus enabling them to adapt their consumption behaviour.
WWF-Indonesia is simultaneously running its consumer campaign on sustainable consumption called Beliyang Baik ("Consume the better"), which can be found here: http://www.beliyangbaik.org/ (in Bahasa)