Raising awareness on the perils of palm oil production
WWF-Indonesia has embarked on a series of media trips for getting the question of how to make palm oil production more sustainable into the public discurse. The first media trip was organised to Sintang in West Kalimantan, the second one to South Tapanuli in North Sumatra. Both areas have been subject to an increase in palm oil production, most of which lies in the hands of smallholder farmers. The numbers of palm oil smallholders in Sintang and South Tapanuli have been growing significantly, as consumer demand for palm oil products keeps on increasing. However, despite the beneficial economic returns, the current smallholder farming practices can also pose significant challenges to ecosystems and biodiversity. The media trips were meant to address those threats and negative environmental impacts of unsustainable palm oil production, and demonstrating  positive examples of sustainably managed oil palm plantations.
Showcasing best practices in Sintang and Tapanuli
Responding to the challenges, both local governments of Sintang and South Tapanuli have committed to promoting sustainable palm oil production practices through the establishment of a Sustainable Palm Oil Forum in each region, and signing off on a Head of Regency Decree on the Sustainable Palm Oil Regional Action Plan. The journalist visits were aimed at showcasing these initiatives and the support behind them by farmer groups, local government agencies, NGOs and corporations.
During the visit to Sintang, the participating journalists were able to witness the public consultation process that is required to approve the Regional Action Plan. When visiting South Tapanuli, journalists met relevant corporate stakeholders from upstream and downstream sectors, and were thus able to understand company commitments to sustainable palm oil production as reflected in their sourcing policies.
Journalists also met and discussed with farmer groups and local communities, hearing first-hand about their experiences in implementing sustainable production practices, including the challenges they are facing as well as the benefits they are gaining by converting from unsustainable to sustainable production. In Sintang, the journalists moreover took part in a 'demonstration plot' activity in which know-how on good agricultural practices was exchanged between different farmer groups.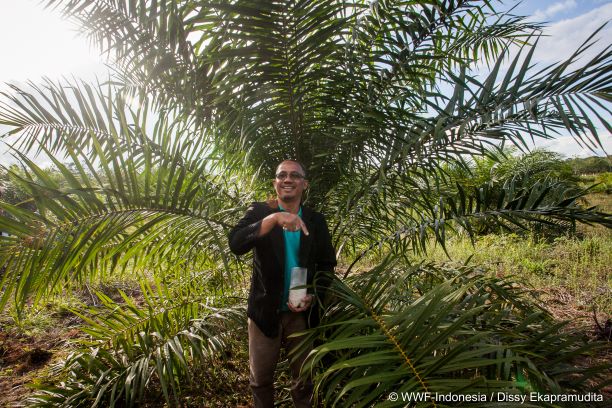 Both media trips combined totaled a participation of 10 journalists from 9 media outlets and 2 influencers, resulting in 80 published news articles and 1 video. A third media trip will be conducted later in 2020 to Pelalawan Regency in Riau Province.
As an integral part of WWF-Indonesia's public outreach campaign on sustainable consumption "Beliyang Baik" (Consume the Better), the media trip series is expected to trigger an increased public discurse in mainstream media on palm oil production and the necessity of making it more sustainable. Eventually, the hope is to raise consumers' awareness on this topic and thus cause them to shift consumption behavior to more sustainable options. 
The website to WWF Indonesia's "Beliyang Baik" campaign can be found here.