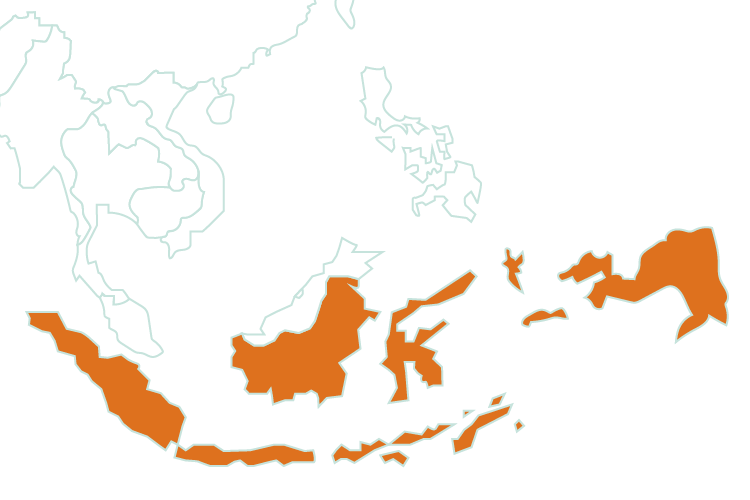 Indonesia: Factsheet
Population size:
261 million
Annual population growth: + 1.1 %
Annual urban population growth: 2.5 %
Population density: 144.1 people per sq. km of land area
Surface area:
1,910,900 sq. km
Forest area: 910,100 sq. km
Protected areas (terrestrial and marine): 5.1% of total area
CO2 emissions: 1.82 metric tons per capita
Human Development Index (HDI): 0.689
GINI coefficient (income inequality): 39.5 (2013)
Mostly 2016 data. Sources: World Development Indicators Database, Human Development Index
Indonesian Starting Situation
Indonesia is the largest producer of palm oil in the world with a total production of 31 million tonnes of crude palm oil (CPO) in 2015. One third of the palm oil produced in Indonesia is consumed in the domestic market, mostly as cooking oil. The palm oil sector plays an important role in Indonesian economic growth. It is shaped by strong market forces and comparatively high profits, but at the same time, there are significant direct environmental impacts (forest loss and carbon emissions) connected to palm oil production.
The national consumer sector has become increasingly important as a driver of economic growth in Indonesia. Changes in lifestyle and consumption patterns occur in line with an urbanisation trend. By 2030, it is estimated that 71% of the total Indonesian population will live in urban areas compared to 55-57% at present. It can be assumed that the middle-income population will increase and support the Indonesian consumer market.
Indonesian Approach: 
Campaigning and Community Engagement
WWF Indonesia focusses on a comprehensive campaign about "Better Consumption" (Beli Yang Baik), and is combining this with private business engagement. In order to replicate and spread the idea of SCP in the corporate world an analysis of sustainable business models will set the frame for a dialogue that can lead to corporate commitments to more sustainable value chains. The palm oil sector in Indonesia (producers, brand owners, retailers) is being engaged to advance further in ongoing sustainability initiatives (e.g. roundtables, High Carbon Stock working group, etc.), while consumers and civil society are mobilised to demand more sustainable (palm oil) products. Over decades of engagement, WWF Indonesia has formed strong community ties, and is reaching out to engage consumers through communities as well as online/ social media.
Factsheet of the project components in Indonesia
As Indonesia is currently revising its NDC, stakeholders are discussing the potential and role of the palm oil sector.
read more