What are NDCs?
Nationally Determined Contributions (NDCs) have been drafted by countries individually to express their potential for contributing to the international goals for reducing GHG (greenhouse gas) emissions. Each country has thus set up a statement committing to be part of worldwide efforts to combatting climate change, while taking into account national resources, capabilities, and opportunities. In order to refine NDCs in project partner countries and to make them more effective in GHG emission reductions, the project invited experts to hold a workshop with different stakeholders from Indonesia and Thailand. 
Working on NDC refinement
After a first NDC workshop, held in November 2018, introduced the basic concept of NDCs and mentioned best practices from other countries, the recent workshop, held in Januiary 2020, focused more on the specific countries in the training: Thailand and Indonesia. As a special case study the integration of palm oil production and private sector contributions to the Indonesian NDC were highlighted and examied more deeply.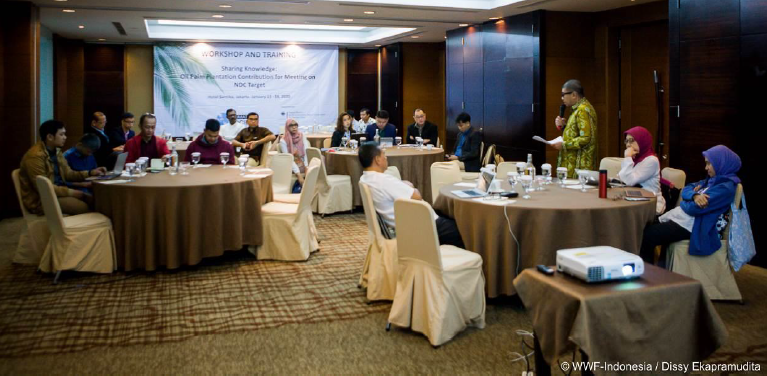 Palm oil sector contributing to Indonesia's NDC
At present, Indonesia is the largest producer of Crude Palm Oil (CPO) in the world. Data presented by the International Trade Center (ITC) in 2018 states that Indonesia exported around 28 million tons of CPO, with a market value of USD 180 billion.
Given this socio-economic importance, the oil palm sector is facing a lot of challenges, such as land tenure issues and environmental concerns. The industry contributes a lot to biodiversity loss, air pollution, and greenhouse gas (GHG) emissions. Nearly half of Indonesia's GHG emissions come from land use change, and palm oil production is a major reason of this change.
Experts from CGIAR CCAFS SEA (Consultative Group on International Agricultural Research, Research Program on Climate Change, Agriculture and Food Security in Southeast Asia) and CIAT (International Centre for Tropical Agriculture) were giving the technical input to the training, which was attended by representatives from the WWF project teams in Thailand and Indonesia, Yayasan Climate and Society, the Office of Natural Resources and Environmental Planning Thailand, the Ministry of Environment and Forestry Indonesia, PT Smart TBK, Bogor Agricultural Institute, the Ministry of National Development Planning (BAPPENAS) Indonesia, PSDH,  FNF Indonesia, RSPO, TNC, GIZ, and Kemitraan.
The project is working on an analysis of palm oil sector contributions to the Indonesian NDC, which is currently in the consolidation process, and will result in specific policy recommendations for that sector.